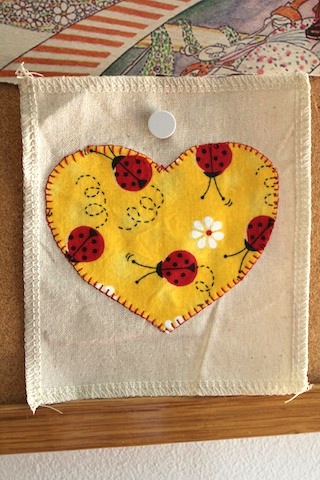 This feels like the start of a beautiful friendship. I've recently figured out how to appliqué freeform shapes onto other fabrics and it is fun! Here I describe my attempts at an appliqué heart, the "hello world" of appliqué patterns and the online resources/tools I found useful.  The plan is to use this technique as part of an appliqué flag for a neighbourhood craft initiative (stay tuned for future posts!).
The two things to know when you appliqué are the use of fusible webbing to convert your fabric into a "sticker" and the use of the blanket stitch (I used this stitch for the ears of Midnight, the hobby horse) to seal in the fabric edge.
Using fusible webbing: I viewed this video a number of number of times to become familiar with the sequence of steps in the use of fusible webbing for appliqué. For the brand, I've only used Heat-n-Bond Lite so far. I have found that the first step of ironing needs to be really light and really quick (iron on surface for < 1 sec), otherwise the glue appears to set, leaving no adhesion for the second ironing step, the one where you stick the top appliqué fabric to the bottom base fabric.
As for the blanket stitch, well, bonus! My Bernina 330 seems to have come with it (stitch #29). This tutorial explains the use of the blanket stitch to make the heart pattern. As my heart above illustrates, using the blanket stitch allowed the edges of the woven ladybug fabric to be sealed in; the straight stitch would have left a border of frayed edges.  Another bonus was the open-toed embroidery foot that happened to come free with my Bernina purchase (part of a promotion). This foot simply lacks the cross bar at the front of the foot, thereby giving the user a full view of the stitch in progress.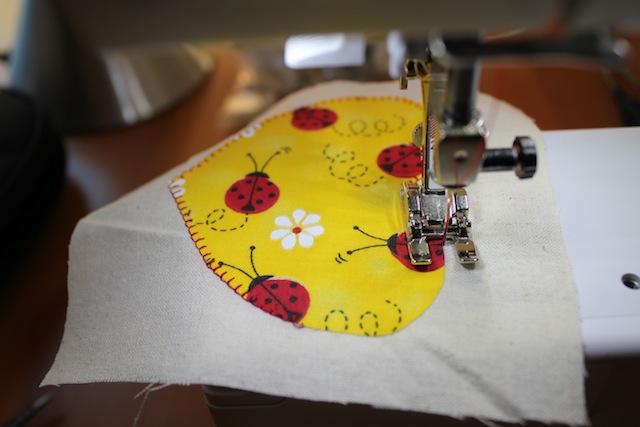 The result is pretty slick looking for a simple appliqué.